About us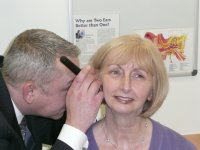 At Harmony Hearing we have over 20 years experience in the hearing aid industry (Hearing tests, hearing aid fittings and aftercare), both within the Private and NHS sectors.
All hearing tests, fittings and aftercare will be carried out by the same fully qualified registered hearing aid audiologist.
We truly believe that consistency and continuity of aftercare is essential to your success with the hearing system. Experience has shown us that the development of personal relationships with our customers is vital in understanding your individual hearing needs.
WE STRIVE TO PROVIDE "THE PERSONAL TOUCH"
We are proud of the fact that we are a local company (Hearing tests in Lancashire, Merseyside and Cheshire), and by keeping our overheads low the savings can be passed on to you. This means that we can offer you an affordable alternative to both the large High street retailers and the NHS.
Harmony Hearing specialise in the assessment of your hearing, and if a hearing loss is found, the supply and fit of digital hearing aids IN YOUR HOME. This, coupled with our promise of free aftercare for life, means you can rest assured that your hearing health is in the best possible hands.
We will conduct the hearing test in a friendly, no pressure manner, making the experience enjoyable and informative- we genuinely care about you and your Hearing.
Freephone 0800 619 0023 or 0800 619 0024
We conduct hearing tests in Cheshire, Lancashire,Merseyside and throughout the North West and pride ourselves on our professionalism.
We would love to hear from you